Purple Stripes are thought to be the oldest variety of garlic, from which all others evolved.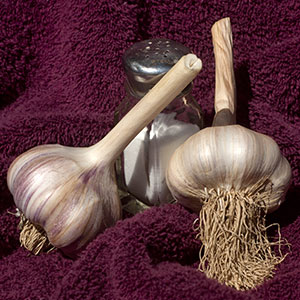 They are also a very attractive garlic with beautiful white and purple striped wrappers that become more purple as you peel away the layers.
The bulbs are medium to large sized with 6 to 12, easy-to-peel cloves. The cloves are thin, long and pointy, and usually curved.
They are very flavourful, and have often won taste-test competitions for best baked garlic like those in the kitchens of Sunset, Martha Stewart, and Rodale.
Roasting brings out their sweetness. Raw, the flavour is moderately hot but not overpowering.
They will keep 6 to 8 months, and we find that the flavour is still good.
We grow 1 cultivar of Purple Stripe garlic:  Tibetan